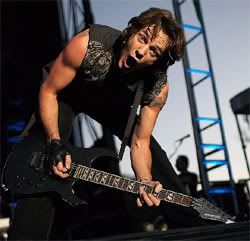 Yea! On March 2 my mom took me to the House of Blues to see Rick Springfield as a birthday present. My B'day's on March 5. We saw him last year as a gift for my mom for mother's day, and we also got autographs from him.
I was so excited! He sang all my favorite songs! Bop till you Drop, Jesus Saves, Celebrate Youth, I Get Excited,etc... And during the concert he asked who all had a cellphone, just about everyone raised their hand. Then he asked who didn't have a cellphone, 'bout ten people raised their hands, He said "LOSERS!!" It was funny, one girl he said your too young to have one.
And then he said to all the people who have a cellphone I want you to raise it in the air and wave it back and forth. He had the light turned off and all our phones glowed and he announced these were the new lighters!! We were all roaring with laughter.

It was soooo fun! If he comes back next year I CAN'T WAIT!!! XD

These are some items I got from there.